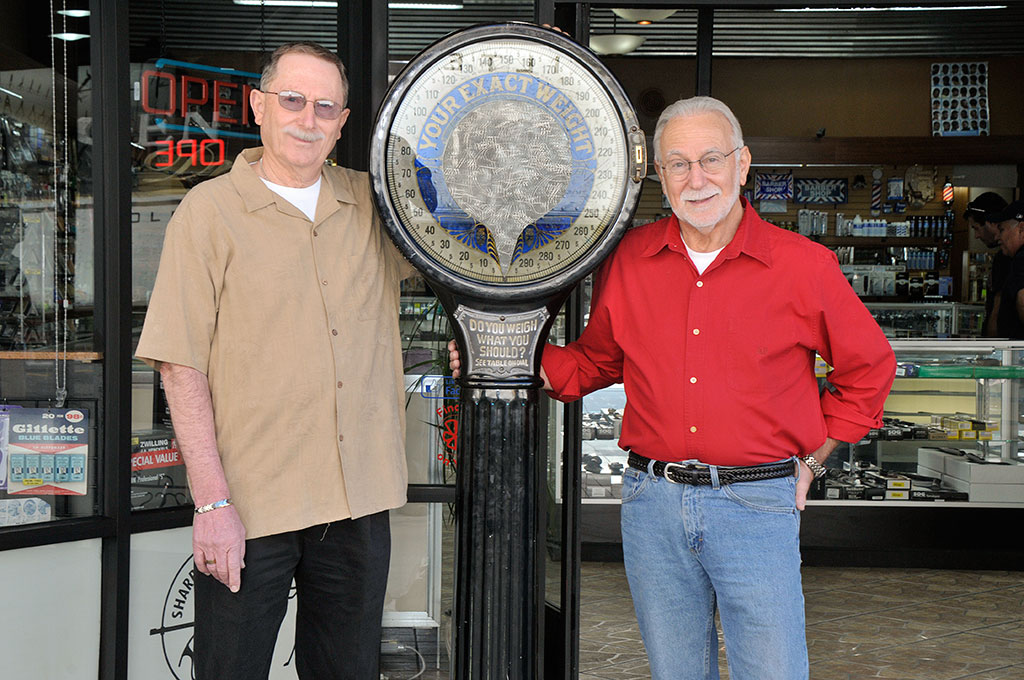 Ross Cutlery is owned and operated by brothers Richard and Allen Wattenberg since 1962.  Originally opened in 1930 by Mr. Ross himself, Ross Cutlery started out as a sharpening business with just a few items for sale.  Over the years, the stock has increased to include knives, scissors, barbering tools and so much more.
Ross Cutlery's rich history started in a small store facing 3rd St. inside the world famous Bradbury Building, where Mr. Ross built his reputation as a master sharpening craftsman.  Ready to retire, he sold the business to the brothers, and trained them in his master technique for sharpening.  The sharpening business continued to flourish, but over the years, they also realized there was a demand for the tools themselves.  Realizing the opportunity for growth, Ross Cutlery began carrying the best of the brands available to service the needs of their customers.  Eventually, they outgrew the tiny store facing 3rd St., and relocated around the corner to a 1500 sq. ft. space in the building facing Broadway.  There, the brothers grew the business to become the standard in cutlery in Los Angeles.
With a home so close to Hollywood, Ross has had a few brushes with fame.  The store has been shown in several movies (The Number 23) and television shows,  and even had some scenes shot inside (Shopping With Chefs, Scissors).
After more than 70 years in the Bradbury Building, it was time again to grow.  In 2012, Ross Cutlery moved just a few doors down into a spacious, 6000 sq. ft. store, boasting a beautifully renovated 3500 sq. ft. showroom.   With a fresh new view and a lot more elbow room, Ross Cutlery has been able to carry an even greater selection, as well as continuing their excellent sharpening and repair services.
The Scale
Although Ross Cutlery is famous for it's sharpening and amazing selection of blades, another star has risen over the years, becoming a landmark in the heart of downtown L.A.:  The Scale.
The scale is wheeled out every morning at 9am and back in at 6pm when the store closes.  For just the price of a dime, it will accurately deliver the weight of whoever, or whatever, graces it's scale.  Many people come by weekly to check in, where others use it to weight packages or items they are curious about.
Purchased in the 80′s from an antique dealer in Florida, The Scale has become a familiar fixture of the downtown cityscape.  Made of black porcelain, it weighs in at a sturdy 300 pounds.  Shaped like an antique clock and adorned in blue and gold, it's antique charm is easily apparent.  Alluring, yet taunting with the capital letters "DO YOU WEIGH WHAT YOU SHOULD?", passersby can't help but stop to find out.
For more information about Ross Cutlery, check out some of our press!
L.A. Weekly – Holiday Prep Essentials, 2012
L.A. Downtown News – 50 years in Downtown LA
L.A. Downtown News – Ross Cutlery Moving, Expanding, 2012
LA Times - Old Scale Means Reliability, 2010
KobreGuide – Video collage of The Scale users, 2010